This text has no greater meaning, just wanted to show some photos. Still nothing that fancy, but didn`t want this blog to look this pale, cause i feel i`m more kind of a colourful person and would like this place to reflect my true self.
I have a slight obsession when it comes to papercrafts, or love should i say? Therefore i already have bits and pieces of everything for papercrafting around our house. (I`ve thought that i`ll make a more thorough "tour around my crafting stuff" -post later) But washitape, did i have any? No. Well, that was easily corrected. A few weeks ago i happened to find this great Finnish webstore, called
Teippitarha
(tapegarden) and guess what happened?
Now i own these. :D Some washi and some extra.
Just a reasonable beginning for my collection i think. Collection i say, cause i think i`ll order some more soonish. The service at Teippitarha was good and tapes arrived very soon even around Christmas-time, when postal services don´t work too often here in Finland. I have made tons a few other purchases lately as well. More about that later, when they arrive at my mailbox. Soon i hope!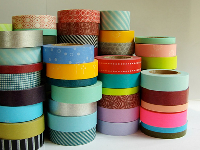 I`ve already tried out my new washis. I took part at Swap-bots "
deco-taped envelope with a surprise
" and my both envies went to United States. My partners haven`t received my posts yet, so i won`t show the envelopes better than this for now. I`m also in this
huge swap
. We were supposed to fill an A4-envelope so it is FULL. This went to the States too. I`m so so so so much waiting for these to reach their recipients and am of course also eagerly waiting for my mailbox to be fed. I may have signed up for a few other swaps too, lost my mind in posts i guess.
Oh my! This picture sure is bad. I have mad image editing skills, lol.
And i hate those pale stamps, but didn`t have anything else at home
and wanted these to start their journey accross the ocean.
I have (hopefully) better pictures of these and of their content on my computer. If the quality on those is as poor as above i guess i`ll have to turn to my scanner for help from now on. Or then i just need some more exercise. This is my first blogpost with pictures like ever, so please be patient with me. Lots of love to you all! ♥